Father of Video - Nam Jun Paik

Nam June Paik transformed video into an artist's medium with his media-based art that challenged and changed our understanding of visual culture. As Paik wrote in 1969, he wanted "to shape the TV screen canvas as precisely as Leonardo, as freely as Picasso, as colorfully as Renoir, as profoundly as Mondrian, as violently as Pollock and as lyrically as Jasper Johns."
Paik's journey as an artist has been truly global, and his impact on the art of video and television has been profound.
Paik's initial artistic explorations of the mass media of television were presented in his first solo exhibition in 1963,
Exposition of Music—Electronic Television,
at the Galerie Parnass in Wuppertal, Germany. This milestone exhibition featured Paikís prepared televisions. Paik altered the sets to distort their reception of broadcast transmissions and scattered them about the room, on their sides and upside down. He also created interactive video works that transformed the viewers' relationship to the medium. With these first steps began an astonishing effusion of ideas and invention that over the next 30 years would play a profound role in the introduction and acceptance of the electronic moving image into the realm of art.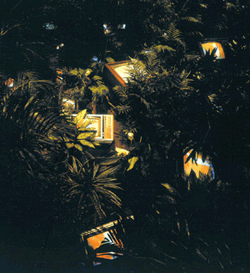 TV Garden,
1982 version. Single-channel video installation with live plants and monitors; color, sound; variable dimensions. Collection of the artist. © The Estate of Peter Moore/VAGA, NYC.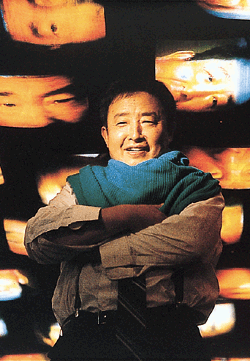 Nam June Paik, 1986. Photo by Rainer Rosenow.

TV Clock,
1989 version. Twenty-four manipulated color televisions; silent; variable dimensions. Santa Barbara Museum of Art, Museum Purchase with funds provided by the Grace Jones Richardson Trust, Wendy and Elliot Friedman, Lillian and Jon B. Lovelace, Leatrice and Eli Luria, Zora and Les Charles, and Lord and Lady Ridley-Tree.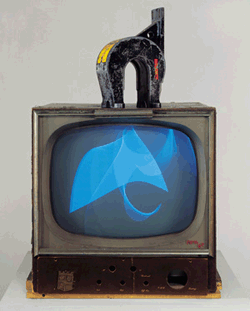 Magnet TV,
1965. Television and magnet; black-and-white, silent; variable dimensions. Whitney Museum of American Art, New York, Purchase, with funds from Dieter Rosenkranz 86.60a-b. © The Estate of Peter Moore/VAGA, NYC.
Through television projects, installations, performances, collaborations, development of new artists' tools, writing, and teaching, he has contributed to the creation of a media culture that has expanded the definitions and languages of art making. Park's life in art grew out of the politics and the anti-art movements of the 1950s,
1960s
and 1970s.
I feel that Paik has reshaped our perceptions of the temporal image in contemporary art.
In much of his art, Paik uses technology to say something about nothing — about words, and information, and connectivity going away — and that takes mastery, too.
References:
http://pastexhibitions.guggenheim.org/paik/
http://www.nytimes.com/2014/09/05/arts/design/nam-june-paiks-work-at-asia-society.html?_r=0
https://www.arts.gov/photos/nam-june-paik-artist-who-invented-video-art