Mongrel grew out of a series of powerful cultural and political exchanges at Artec in 1995 (The London Technology Centre) which was located in Islington London. Artec specialised in the arts, and training for the long term unemployed as well as taking on some commercial work).
Harwood was teaching a group of people on a one-year European Social Fund course at Artec skilling them up for a digital future. Harwood had just finished the installation version «Rehearsal of Memory» and needed help to create the CD-ROM version of the project. Students including Richard Pierre-Davis stayed on after the end of the course ended to help create the CD-ROM. «Rehearsal of Memory,» which went on to be very successful featuring at many festivals around the world.
During this time it became apparent that there was little critical attitude to the exclusive nature of the emerging technologies. Some of the black students were finding it hard to get a foothold in the industry while others students wanted to explore the technologies for their own social/experimental, artistic reasons.
Their appeared to be no space for this to happen within Artec or outside. Students discussed setting up a Mongrel organisation to explore their own ways of making things. Matthew Fuller and Graham Harwood were creating proposals for «Natural Selection.» Using the successes of previous projects, Harwood asked Richard Pierre-Davis and Matsuko Yokokoji to join him in a project looking at «National Heritage» this slowly cemented into Mongrel with Mervin, who was also on the course at Artec, joining sometime later.
Everything Mongrel does evolves around audience participation on a deep level. Their work fits both in the category of physical interface and software in this context, but I always have found their dedication to establishing connections with people through physical meetings and education the most intriguing. The Mongrel approach to social, cultural and political systems or structures is deconstructive and experimental.
Matsuko Yokokoji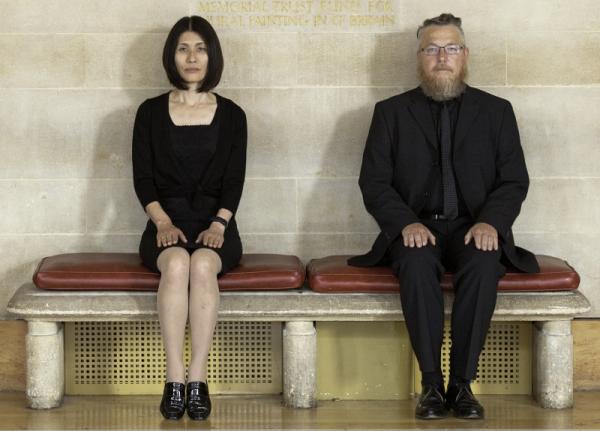 picture; Jamie Woodley, Yoha, Bristol City Council House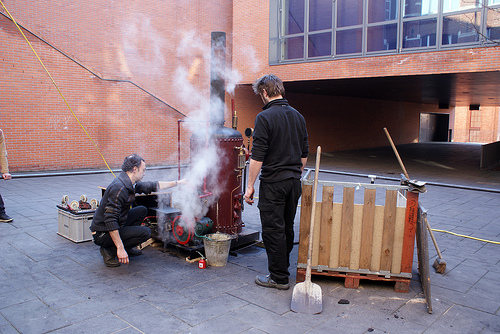 Graham Harwood and Matsuko Yokokoji : Coal Fired Computers (2010)
Matsuko Yokokoji
co-founded the Mongrel group in 1995 with Graham Harwood. She graduated from Kuwazawa Design College in Tokyo in 1983. Two years prior to this she freelanced as a graphic designer and became the art director for Imperial Enterprise Inc. a company specialising in direct marketing, in 1984. Yokokoji first came to the UK in 1987 to study printmaking and computer graphics at Guildhall University where she first met Harwood (another founder member of Mongrel). From 1991-1995 she worke````````````````````````````````````````````````````````````````````````d as a researcher/coordinator for Japanese TV companies. In 1994 Yokokoji worked for Harwood's 'Rehearsal of Memory' which first showed at Video Positive 94' and later it became a CD-ROM of which the installation travelled to 12 cities and 9 countries. 'Rehearsal of Memory' is part of The Centre Pompidou's permanent collection.
Invisible Airs & Endless War
One of their attractive works in our opinion is:
Telephone Trottoire
Pilot March 27th to May 8th, 2006
The aim of the "Telephone Trottoire" project was to engage the London based Congolese community in issues that affect our day-to-day lives. "Telephone Trottoire" is based on a new form of "contagious" telephone application developed by Mongrel and named after the Congolese practice of "pavement radio" or the passing around of news and gossip between individuals on street corners.
In Central Africa people defy media censorship by sharing news and gossip using 'radio trottoire' or 'pavement radio'. Built in collaboration with the radio programmes "Nostalgie Ya Mboka" and "Londres Na Biso" (www.nostalgieyamboka.net), "Telephone Trottoire" encourages London's Congolese community to pass around news stories and discuss them using a unique system of sharing content over the phone.
What deemed as interesting here is that the used an everyday thing and implemented technology into it. They even have
introductory message users hear when they answer the call.
http://research.gold.ac.uk/949/
http://yoha.co.uk/node/639